A few months ago I was talking with Ben, the owner of Lyric theater here in Fort Collins. Ben was in the planning stages of the release party for Whensday, the first movie produced by the Lyric. Off hand I said we could have FRED there serving beers, wouldn't that be fun?
Flash forward until a week before the event – Ben wants to know how the bartending robot is coming along.
"Oh it probably won't be ready to pour beer by August" I say amused by the image.
Ben looks worried, "what? No. It's got be there. Everyone is expecting to see a robot bartender."
"Well then, it will be there."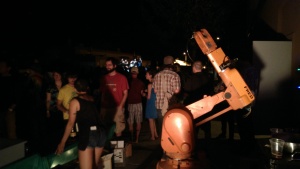 The general idea was he would pickup a solo cup from a stack using a two part suction cup then bring it to the kegerator which was activated by a solenoid from FRED's control cabinet. It all worked great in the warehome but upon arriving at the Lyric for the premier, the solenoid refused to trigger and so FRED just ended up dancing (doing the robot) behind the human bartenders for the night. His mechanical dance moves were a hit.